I'm challenging myself to be frugal, use what we have and still eat at home. Not just for the month of January but as a life change. Who know if it will work, only time will tell. And isn't there a saying that if you do something for 30 days it becomes a habit. Well I'm giving it my best shot.

This was last night's dinner. Not my typical chili recipe but it worked really well. Of course I didn't measure anything but this is what I had on hand.
Ground beef
Italian Sausage
Onions
Garlic Powder
Chili Powder
Diced Tomatoes with Peppers (Rotel by a different name)
Light Kidney Beans (leave them out if you don't put beans in chili)
Tomato Paste
Ketchup
Water
Salt and Pepper
Corn Bread Mix - Love it, Love it, Love it. You need milk and an egg.
Butter for the corn bread
Saute onion in a little olive oil. Throw in the ground beef and sausage. After it is all nice and browned, season it as hot or as mild as you like it.
Add tomatoes, beans, tomato paste, water to the consistency that you want it. I had to add ketchup to this because the taste wasn't right. I really needed another can of tomatoes but...you gotta make due.
Simmer for about 20 minutes. Make the Corn Bread while you wait.
The house will smell so good. If you weren't hungry when you started, you will be now.
This is what my regular pot of chili looks like. It's a little darker and thicker. And actually much spicier. But this made for a great dinner and I didn't spend a dime or even alot of time putting it together.
Don't forget to join the group for 'Eat In Month'.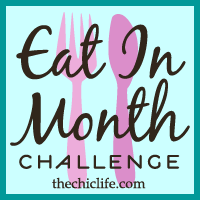 I also got to preview a new show on OWN through
SheSpeaks
. That would be the Oprah Winfrey Network. It was pretty cool. I'm a reality show freak anyway and Oprah is going to give the winner of this show their own talk show. It premiers Friday, January 7th at 9E/8C. The line up of other shows is very Oprah-like so I'm sure there will be lots of makeovers for body, soul and homes.